2017 Ram EcoDiesel - The Best Fuel Economy of Any Full-Size Pickup
 
The 2017 Ram EcoDiesel is back! While official news on the 2018 Ram EcoDiesel has yet to be released, all remaining 2017 Ram 1500 EcoDiesels have been shipped to dealers and we've got a few currently on our lot!
Why does this excite us? Here are three reasons:
Its Diesel Engine. The Ram 1500 EcoDiesel is the only half-ton pickup with an available diesel engine. With a max towing capacity of 9,290 lbs (Regular Cab 4x2 with 3.92 axle ratio), the Ram 1500 EcoDiesel has just a slightly lower towing capacity across trim levels when compared to the 5.7L V8 Hemi. With so much power the EcoDiesel will easily exceed the needs of most truck owners.
Its Fuel Economy. At 29 highway MPG the Ram 1500 EcoDiesel has the best fuel economy of any full-size pickup. From reduced CO2 emissions to a lower cost of ownership, the EcoDiesel is simply a smart choice whether used for towing, working, or commuting. 
Its Longer Warranty. The EcoDiesel engine is covered by a 5-year/100,000-mile Diesel Powertrain Limited Warranty vs. the 5-year/60,000-mile Gas Powertrain Limited Warranty. And a longer warranty also equals greater peace of mind. 
We cannot guarantee how much longer we'll have 2017 Ram EcoDiesels on our lots. To check availability, please call (925) 951-0758 and ask a member of our Internet Team to schedule your Ram EcoDiesel test drive today!
5 Reasons Why the Chrysler Pacifica & Pacifica Hybrid are the Ultimate Family Vehicles


1) The Highest Ranked.
Deemed "The Highest Ranked Minivan in Initial Quality" by J.D. Power*, the Chrysler Pacifica was recognized for its superior quality powertrain design, top-rated features and accessories, thoughtful body and interior structure, and exceptional overall design quality. It's a stunner through and through.
2) Superior Safety.
The 2017 Chrysler Pacifica was awarded the IIHS Top Safety Pick+ designation. Recognized as "Superior" in front crash prevention (with optional equipment) and "Good" - the highest rating - in all crashworthiness categories, including: side, roof strength, head restraints, seats, and more.
3) The First of Its Kind.
The Chrysler Pacifica Hybrid is the first electrified minivan sold in the US. A true combination of luxury, environmental friendliness, and gas savings with an EPA-estimated 84 mpg-e† - there's simply nothing else like the Pacifica on the market.

4) The Delight is in the Details.

Chrysler invested a lot of time and money into designing a superior minivan and the effects of their  investment are felt every step of the way. To highlight a few of our favorite details: 
A rear suspension means the Pacifica drives more like a car, guaranteeing a smooth, steady ride for all on board. 
Standard active noise cancellation and class-leading interior volume means you hear what you want and drown out the rest. 
The backseat's vacuum has a 14-ft hose and a 14-ft extension so after vacuuming your Pacifica you could feasibly turn around and vacuum the car next to you. 
10-inch LCD screens mounted airplane-style on the seatbacks increase headroom and give backseat passenger plenty of entertainment options, including: built-in applications, video games, and a DVD player. 
And the list goes on -you name it, Chrysler thought of it.
5) The Ultimate Family Vehicle.

Chrysler calls the Pacifica "the ultimate family vehicle" and we agree, it is. From superior design to superior safety, the Chrysler Pacifica was created to please and protect your family. 
Interested in making the most of your family travels? Stop by and speak with one of our Product Specialists and learn more about the Chrysler Pacifica's hidden secrets and discover the endless value of this truly unique minivan!
*For J.D. Power award information, visit JDPower.com.
†MPG rating is based on 2016 EPA mileage estimates and is used for comparison purposes only; actual mileage will vary depending on driving conditions, how you drive and maintain your vehicle, battery package condition, and other factors.


5 Reasons to Choose the All-New 2017 Jeep Compass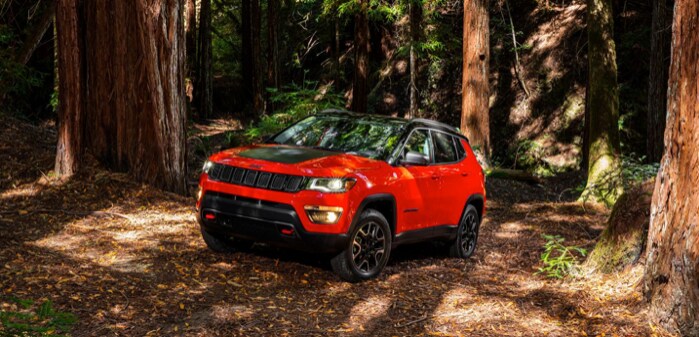 The all-new Jeep Compass combines the best qualities of the Jeep lineup - rugged good looks and all-terrain capability - with luxurious features found only in high-end luxury SUVs. Here are the top five reasons to choose the Jeep Compass as your next vehicle upgrade.
1) Drivability. City driving? Off-roading? You name it, the all-new Jeep Compass is true to the Jeep brand with more off-road capabilities than most crossovers in its class. As Edmunds.com reports the Compass has "dramatically improved" drivability and combines "carlike steering and brake inputs" with "enough chassis stiffness and suspension control to handle curves and off-roading."

2) Fuel Efficiency. Despite being slightly larger than some of its compact competitors, the all-new Compass manages to meet or exceed 30 mpg for highway driving.
3) Spaciousness. With more legroom and a higher seating height than its four closest competitors (Caranddriver.com), the Jeep Compass delivers a roomy interior that shows how a compact crossover doesn't have to compromise on comfort. 

4) Safety. The Compass is packed with standard and available safety features. Here's just a sampling. ParkView Rear Back-Up Camera and seven interior airbags come standard on the Jeep Compass, while additional features include Forward Collision Warning, Lane Departure Warning, and the list goes on and on. 

5) Eye appeal. Need we say more? 
Right now we're offering exclusive lease offers and amazing retail specials on the all-new Jeep Compass, and VIP test drive demos. Schedule your VIP test drive by calling (925) 951-0758 - just ask for our Internet Department!